We want to welcome you all back to a brand new and hot scene with some more papithugz getting wild and nasty with each other and the two guys in this show are called Arquez and Jovonnie. The two black men just came back from the club as they got super horny and they are not exactly eager to tempt fate and fuck in a public space just yet. So they went right back home and had some proper one on one action with each other, sucking some fine cock and having a blast with one another as they banged each other hard style for you to see today. Well, let's get right into the action and see the two papithugz having their sexual fun today!
Well as we mentioned, the two guys were all ready to party and you just have to see them having a go at it as soon as the cameras begin to roll here today. They get right to the bedroom and once inside they start to have their fun with each other, getting to undress and suck each other off to make those cocks stand nicely at attention. Then the guys get around to have some proper butt fucking action and eagerly play with one another more kinky and you can see them enjoying fucking one another in the ass for the rest of this glorious scene today. We'll be back again next week with another new gallery for you so make sure you check it out!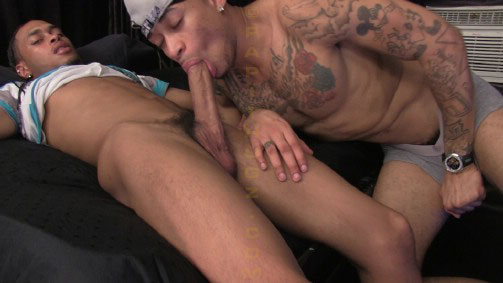 Enjoy watching this guy blowing a big dick!