Hey guys PapiThugz is back again this week with a sweet update. In this one your favorite guy Moyea gets to have his way with a tight white ass. The guys met at a sauna and since they kind of liked each other well you can guess the rest. So watch as Moyea delivers some hard style anal punishment to his new man toy. Moeya does pack a nice and big cock and this other stud was more than happy to get to have it shoved all the way up his nice and tight bum. So let's not waste time and check out the whole thing as you get to see the two studs having the time of their lives fucking one another nice and deep today shall we?
These two thugz know how to do it right, especially Moyea as we mentioned earlier. He usually gets to be the one doing the pounding, so the stud he was with today sure got to feel it in his ass. No worries though as Moyea is quite the expert at making his fuck buddies feel good and comfy even with that huge thick cock of his too. So take your time and watch Moyea plowing this cute hunk anally for the rest of the afternoon as he moans in pleasure throughout the whole thing. We know you'll have fun with it and be sure that there will be even more to see next week as well. See you guys then and have fun with this update for now!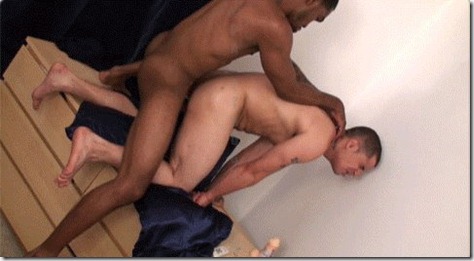 Check out ripped Moyea destroying a bubbly ass!